"The history of Sapporo Snow Festival"
(I didn't write this part and I only copied the mistakes. I didn't make them.)
The first snow festival was held on February, 1950 at Odori Park. The aim of it was to present citizens outdoor pleasures during the long winter in Hokkaido. They enjoyed folk dancing, outdoor movies, dog races, and other activities. Some high school students made several sculptures with snow.
Since then, the festival has been liked by citizens and it has developed into a large-scaled winter activity. Since 1995, the 6th festival, the Self Defence Army has joined and made some large sculptures and opened its base at Makomanai for children's enjoyment with many sculptures from fairy tales, ice slides, tunnels, in snow, so on.
Now it has become well-known not only in Japan but in the whole world.

Author unknown & it's probably better that way.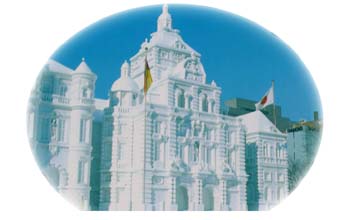 Don't be fooled by what's written above. You ain't seen nothin' yet!
The party begins on the next pages.