This year included all the thrills of last year and more. As you will soon see we had a very lovely lass share in the excitement this year. Certainly not the first time someone of the female persuasion has donned a fundoshi and run through the night in the snow and ice, but it was the first time I ever did beside such a lovely lady. She happens to be a friend so it's not like I haven't seen her naked before. (JUST KIDDING!) Really, I mean it! Fine don't believe me damn it! In any case it was such a good time I had to refrain from putting some pics online due to decency laws in Japan. Send me a self-addressed enveloped with bills of a very large denomination and I'll send you some pics you can brag about owning. Some pics that will really getcha goin. But enough sales talk. Let's get on with the story.

At 3 am the morning of Feb. 12 Ms. K and I arrived at the Mugishutei. Everyone was already there. Unlike last year, we had an influx of white guys this time. Maybe it had something to do with my page. I really need to work out a commission system with Phred sometime. Anyway, here we have a nice calm-before-the-storm shot. Oh how things can change SO much in SO little time.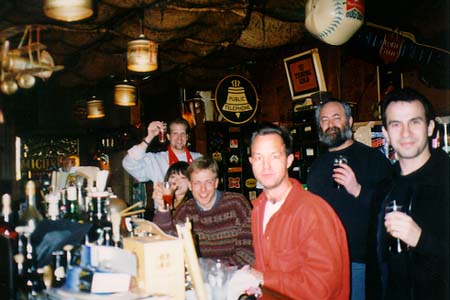 Sorry you can't see Ms. K very well. But hey! You'll see a lot more of here reaaaaaal soon. At this point allow me to apologize for the poor quality of some of the pics. It couldn't be helped, but scanning tips are welcome from any pros out there.

Now every year they make one sculpture of a Japanese castle. For the life of me I can't remember which one this one was. That's what happens when you write the story two months after the fact. But does anyone care, I don't think so. You're here to see nearly nude shots of me and maybe Phred. And have we got some pics to show you. Someone warned me that night that I had better take down my home page if I wanted to find another job. (I was kind of looking at the time) I didn't and I still got an offer. Go Figure!
Hey! I found the pack of postcards I had from the festival and guess what? It's Kochi castle. As if that makes any difference.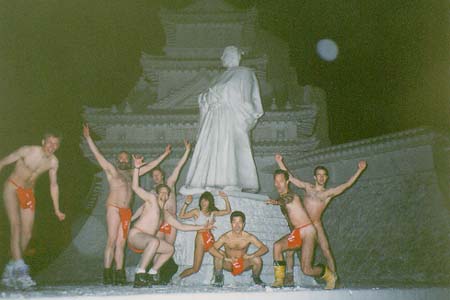 Isn't this a nice shot that puts us right in the mood for Skin & Ice. Now THAT is a good name for a porno mag. I should've been a writer. I wonder if Hustler has any openings.